Teenage Bottlerocket "Stay Rad!" Record Release Party – Little Kid (acoustic version)
2 min read
Teenage Bottlerocket's Ray Rocket performs an acoustic song at Fat Wreck HQ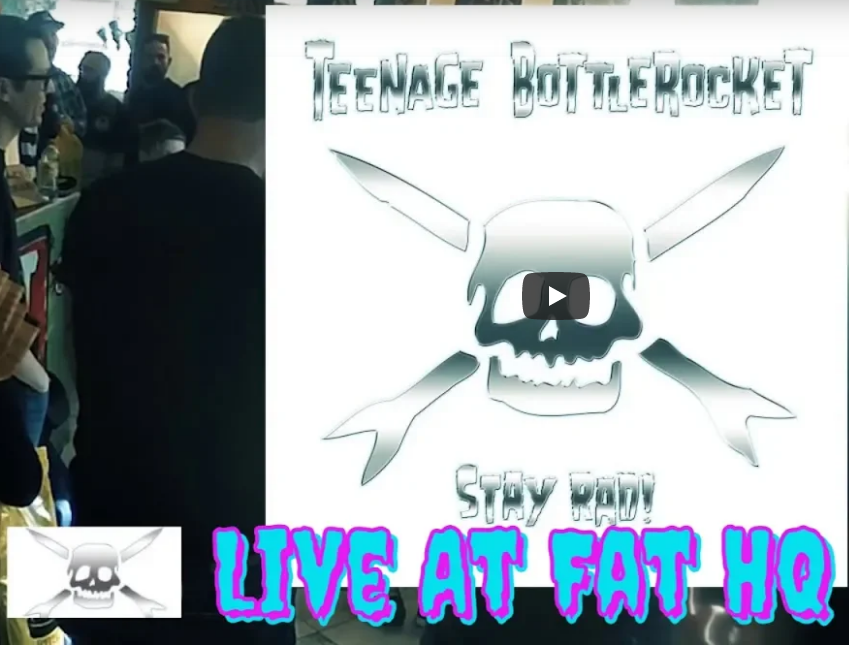 Teenage Bottlerocket "Stay Rad!" Record Release Party live acoustic set at Fat Wreck Chords HQ in San Francisco
Ray Rocket , in from Wyoming, and on his way to Disneyland with his son, stops by Fat Wreck Chords HQ to sing" Little Kid". The occasion as to celebrate the release of the new Teenage Bottlerocket album Stay Rad! . This album marks the return of the band to the label after a brief hiatus, and is the band's eighth full length LP in all. "Stay Rad!" also is the first new album since of original material since the sadly sobering drug related death of drummer Brandon, Ray's twin brother, back in 2015.
[yourchannel video="duLx-Bqkhp0″]
Teenage Bottlerocket are no longer teenagers, and in fact are proudly punk rock "dad rock". Stay Rad! closes out with the track featured here "Little Kid." A somewhat somber song, that explores the minefields of memory, reflective no doubt on the loss of Ray's brother and the changes that fatherhood has brought. When Ray Rocket achingly yodels "I can't figure out how to be a little kid again," it's impossible not to feel tinges of his grief, if not some sadness of our own childhood's being gone for good as well.